Intercom Subscription plugin and addons have the capability to integrate Segments, Users and Companies into the WP Admin interface. This lets you easily monitor things right from within the Admin pages.
To enjoy this feature, you will have to apply for Extended Scope for your access token. This is totally optional, but a great feature to have around for convenience. Once you apply, it may take up to 5 business days to get approval (depending on existing requests).
To apply, follow these steps below:
Go to https://app.intercom.com/developers/_ (You may need to login.) You will be presented with your Access Token details and current scopes. Notice that some of the scopes are shown under "SCOPES PENDING APPROVAL" heading and are shown with an Orange-colored clock icon. We will apply for them to be approved.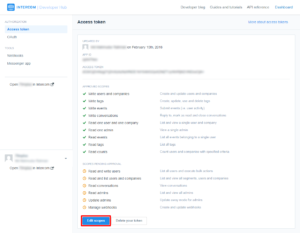 Click the Edit Scopes button.
Choose Standard + extended option. This will bring up a new textbox for the reason you are applying. Enter something like this on the box:
I am using Intercom for an integration. I need to see segments, users, companies under a company. Please enable extended scope for me. Thanks.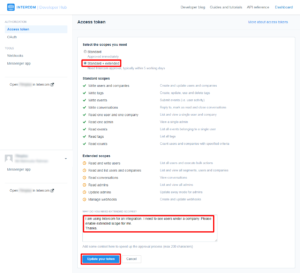 Click Update your token button.
It will show a message like this at the top: Thanks for submitting your request for extended scopes. We'll have an answer for you within 24 hours.

When your request is approved, you may see a popup message showing that your access token is now approved for extended scope.
Now if you go to your access token page again, you will notice that all of your scopes are showing as approved: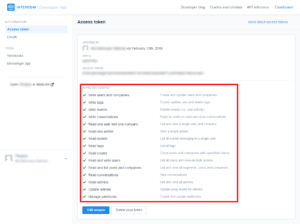 If you see something similar to above, your approval process is finished successfully. You can now enjoy the extended features on your Intercom Subscription plugin and addons.